Finally, Candy Claws' first full-length will be available for all ears to hear.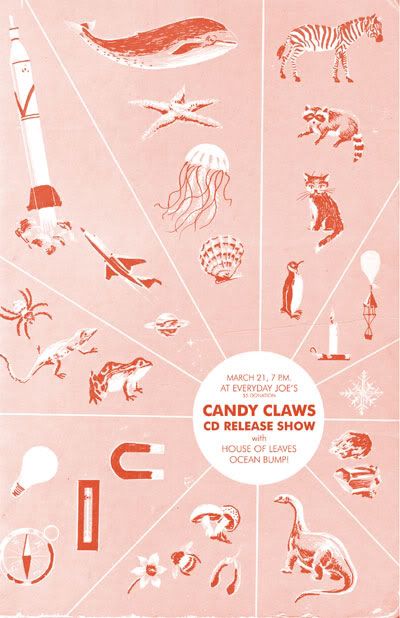 You can post this image too! Just copy the text in the box and paste wherever you like.
They play with
House of Leaves
and
Ocean Bump!
on March 21st at Everyday Joe's. The show starts at 7 PM, and there is a $5 suggested donation.
Other Candy Claws shows this season:
March 26 - Candy Claws, Ocean Bump!, and Automobile, Swift at Avo's 8:00 p.m. small donation
March 27 - Live on Radio 1190 4:00 p.m. 1190 AM or radio1190.org
April 10 - FoCoMX Festival at the Cork with Rad Vibes and M. Pyres
The FoCoMX festival will take place April 10 & 11 all over Fort Collins. ASBF's Paean, Sour Boy, Bitter Girl, Candy Claws, Feeling Beastly, and Ocean Bump! will be among 100+ other local bands playing at 12 venues between the 2 days. 2-day passes are available at www.focomx.org or at Rock N Robbins in Fort Collins. They will be $10 through the end of March.
Other shows:
March 13 - Paean and Motorhome - Hodi's Halfnote
April 23 - Paean and Radical Knitting Circle - Surfside 7